The kitchen is the heart of the home, and the kitchen island is the heart of the kitchen – a central hub where people gather to prepare food, to eat and chat. Therefore, it's important that it is as functional and practical as it is beautiful. This comprehensive list of key measurements to consider when designing your island bench, written by Anne Ellard for Houzz Australia, will ensure it will fit your space and suit your needs perfectly.
An island bench should be something your family and guests can easily move around, which is at a suitable working height for you and is in proportion to the space around it.
Space around the island
To avoid traffic jams and poor flow it is very important to plan for adequate room around your island, and this space should be the first thing you consider when planning your kitchen island.
Plan for at least 900 millimetres of space between the island and fixed items – other benchtops in the kitchen, walls or pieces of furniture. This will allow enough room for people to move around the island without having to turn sideways.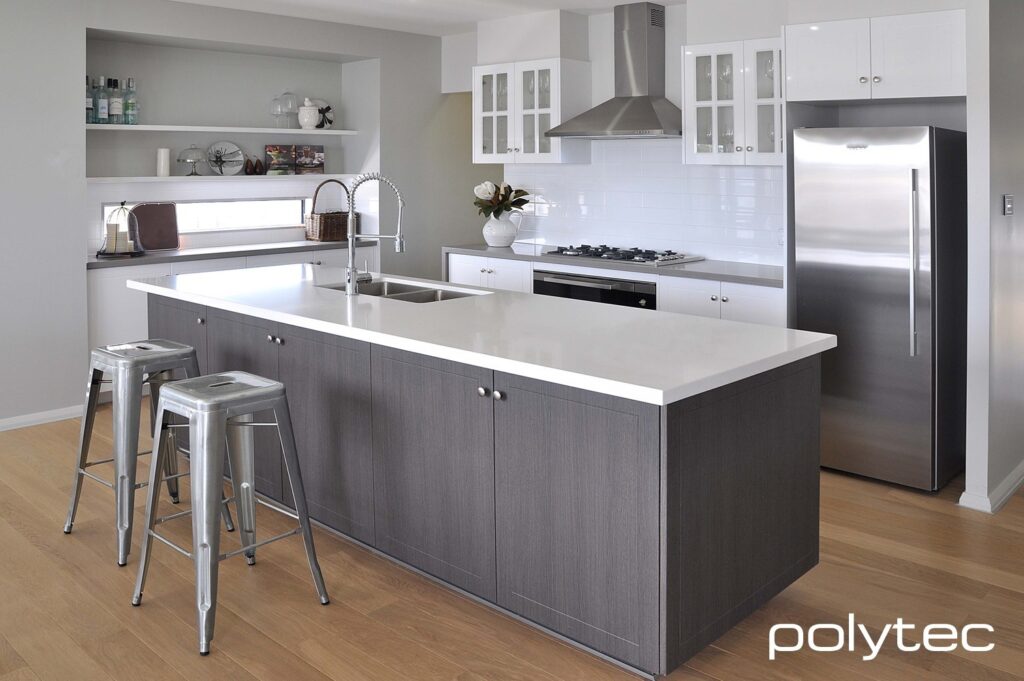 Where people usually stand to work at the island or in other parts of the kitchen facing the island – think of the stovetop and sink, and also where appliances, such as the dishwasher and fridge, open into the space – you will need to plan for even more space where possible. The ideal space between the working areas of the island and other benches is 1000-1200 millimetres, although 900 millimetres will suffice in a one-cook kitchen.
Space behind diners
If your island is positioned so that the seating side of your island has a wall, another benchtop or other pieces of furniture behind it, you should keep the following measurements in mind to ensure diners have adequate room to push their chair/stool back to stand up. Depending on your layout, you may also need adequate room for someone to walk behind a seated person.
The minimum chair/stool pull-out distance behind a seating area to a wall or other objects is 600 millimetres – this is if the area behind will not be used as a walkway. A minimum of 900 millimetres of space will allow another person to edge behind a seated diner, and a minimum of 1100 millimetres will provide comfortable walking space behind a seated diner.
Height of the island
The most common height for benchtops in the kitchen is about 900 millimetres from the finished floor level, however, bench heights of up to 950 millimetres, and even higher, are also popular. Low benchtops are a common cause of back pain, so try to aim for a bench height of about 920 millimetres, or whatever height is most comfortable for your family – 900-950 millimetres is a comfortable height when using bar stools.
If the occupants of your home vary a lot in height then design an island bench (which is a single level) to suit the standing height of the main cook.
The height of your island can also be designed in two levels, with the working area set at a comfortable height for standing prep work and the dining area lower or higher to accommodate chairs or bar stools, depending on your preference.
If you would like to incorporate table-height dining into your island, make the table 750 millimetres high. Regular dining chairs will then be suitable for use.
Don't forget to take the thickness of your benchtop into account when specifying the height of your kitchen island. Benchtop materials vary from stainless steel, which is only a few millimetres thick, to average-thickness laminate at around 33 millimetres, all the way up to 40-millimetre-thick granite benchtops.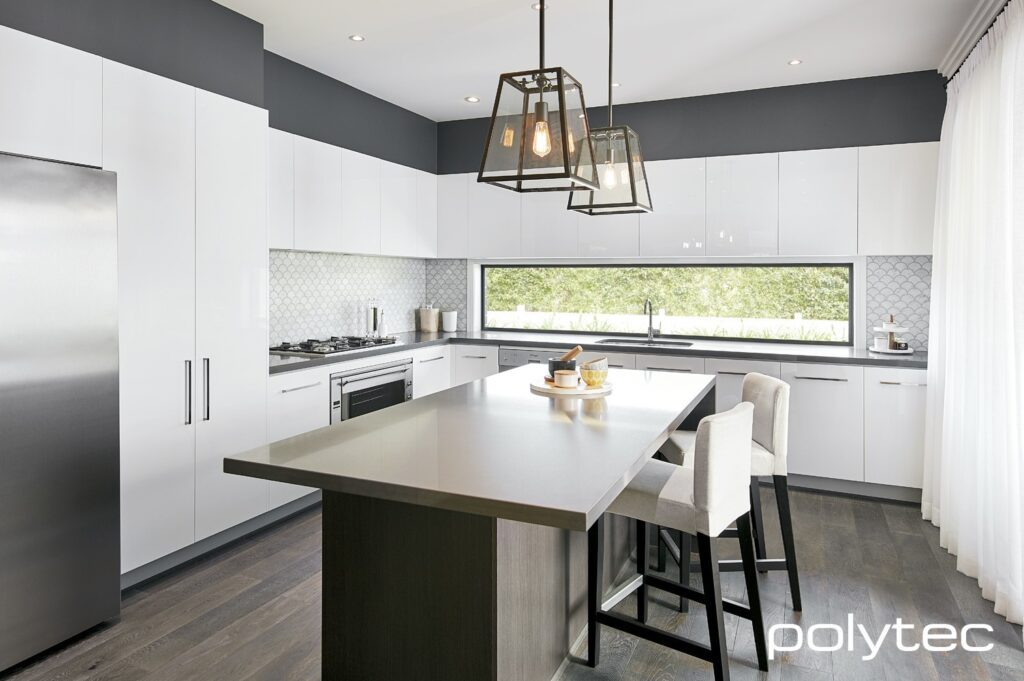 If you have chosen varying benchtop materials in different areas of your kitchen, keep in mind that the difference in thickness between the materials should be kept to a maximum of 3 millimetres. Try to keep surface levels within 2 millimetres of each other, unless you are drastically changing heights, for example with the addition of a dining-table-height bench.
About 1100 millimetres is the optimal height for a raised dining area at your island, as shown here. Raising the seating area at the island can also be a clever way to hide the main work area of the island bench from the rest of the room. Bar stools are suitable for use at a bench of this height.
Depth of the island
Standard depths for kitchen island benches range from 600 millimetres to 1200 millimetres. The depth you need will depend on whether your island will be used from both sides – as a dining area as well as a prep area – and if appliances such as stovetops and dishwashers are being housed in the island. There is also generally an overhang of 20 millimetres between the edge of your benchtop and the front of any base cabinets in the island.
Space between diners
It's important that any diners at your island are comfortable – you don't want them squashed beside each other with no elbow room.
Allow for at least 600 millimetres width per person when seated at an island. This will ensure each diner has sufficient room to eat their meal free from others' elbows on their plates.
Leg room
An island can be a great place to gather for breakfast or even dinner. The depth of leg room under the benchtop overhang required for diners to sit comfortably at your island will depend on the height of the benchtop itself. If your bench is 750 millimetres high (regular table height), aim for 450 millimetres of leg room underneath.
You will need to consult your kitchen designer or benchtop supplier to determine how big of an unsupported overhang you can have based on your chosen benchtop material – concrete, for example, will require extra support underneath if there is a significant overhang.
If your island benchtop is all the same level at the typical 900 millimetres high, aim for 300-400 millimetres of leg room where seating is placed. If you have an 1100-millimetre-high servery benchtop, you can also aim for 300 millimetres of leg room, but if your bar stools have heel rests then 200 millimetres of leg room should suffice.
These measurements allow for your legs to fit comfortably beneath the benchtop while seated and also mean your stools can be stored under the benchtop when not in use.
Space around island fittings
If you are planning to have your sink or stovetop located in your island bench, ensure they are positioned a minimum of 300 millimetres from the edge. Aim for 600 millimetres of landing space to one side and 450 millimetres to the other, where possible.
Room for a moveable island
If you have a small kitchen, or a narrow galley kitchen that's just too small to fit a permanent fixed island, consider having a small island on wheels.
A moveable island will give you the opportunity to have the extra bench space and storage you crave, without cramping the kitchen. Design the moveable island bench so that it can easily be wheeled into the main workspace when you need it, and can sit against a vacant wall when not in use.
Anne Ellard, Houzz Australia